MATERIALS AND METHODS
Material growth

The samples were synthesized via plasma-assisted molecular-beam epitaxy (PAMBE) at 860 ℃ on freestanding Ga-polar semi-insulating GaN substrates grown separately using hydride vapor phase epitaxy (HVPE; Kyma Technologies, Inc.)6. The substrates have dislocation densities of approximately 106 cm−2. The substrate wafers were cleaned using an aggressive wet chemical etch prior to loading in the ultrahigh vacuum MBE system7. Once loaded into the high vacuum, the wafers were de-gassed for 30 min at 600 ℃ and transferred into the MBE deposition chamber. All samples were grown continuously and without interrupts. Further details on the growth techniques can be found elsewhere8.

Three different unipolar n-doped GaN/AlN resonant tunneling LEDs (RT-LEDs) are presented in this work. The baseline design, Sample A, is displayed in Figure 1a and summarized in Table 1 together with Samples B and C. This material consists of (from the bottom up) a 300-nm-thick GaN:Si bottom contact layer (n-type emitter), a 12-nm unintentionally doped (UID) GaN emitter 'spacer' layer, a 2-nm AlN barrier layer, a 3-nm UID GaN quantum well, a second 2-nm AlN barrier, a 6-nm-thick UID GaN collector spacer layer, and a 100-nm-thick GaN:Si top contact layer (n-type collector). Sample B is the same as Sample A but has a 12-nm-thick UID Al0.2Ga0.8N emitter spacer in place of the GaN emitter spacer. Sample C is the same as Sample A but increases the GaN quantum well thickness to 3.5 nm. To show the high quality of the heteroepitaxial layers, Figure 1b displays a high-angle annular dark-field (HAADF) scanning transmission electron microscopy (STEM) image of the GaN/AlN double-barrier region of a test structure grown in the same way as Samples A-C. The image shows both the abruptness and smoothness of all four heterointerfaces.

Fig. 1  

(a) Illustration of the baseline device growth stack (Sample A). (b) HAADF-STEM image of similarly grown test structure. (c) Isometric drawing of the device prior to oxide and pad metal depositions. (d) Top–down image of the Ti/Au pad contact. (e) Photograph of 7 × 10 μm2 GaN RTD structure showing the three DC-coupled electrodes and the RTD mesa device under test (DUT). Strong violet light was observed emitting from the RTD structures under bias, but this was identified as the long-wavelength tail of a much stronger near-UV emission at approximately 360 nm.

| | | | |
| --- | --- | --- | --- |
| Sample | A | B | C |
| Emitter contact | 300-nm GaN 5E19 cm−3 | 300-nm GaN 5E19 cm−3 | 300-nm GaN 5E19 cm−3 |
| Emitter spacer | 12-nm UID GaN | Digital AlGaN alloy (2.5-Å AlN alternating with 10-Å GaN) | 12-nm UID GaN |
| Barriers | 2-nm UID AlN | 2-nm UID AlN | 2-nm UID AlN |
| Quantum well | 3-nm UID GaN | 3-nm UID GaN | 3.5-nm UID GaN |
| Collector spacer | 6-nm UID GaN | 6-nm UID GaN | 6-nm UID GaN |
| Collector contact | 100-nm GaN 8E19 cm−3 | 100-nm GaN 8E19 cm−3 | 100-nm GaN 8E19 cm−3 |

Table 1. Device structures and parameters

Fabrication

All three samples were fabricated using a six-mask optical-lithography process designed for high-frequency resonant tunneling diodes (RTDs). This process involves top and bottom Ti/Al/Ni/Au contacts, self-aligned mesa definition, device isolation, passivation, and Ti/Au pad contacts. Great care was taken to ensure that high-quality vertical sidewalls were created and passivated. After an aggressive Cl2/BCl3/Ar inductively coupled plasma reactive ion etch (ICP-RIE), a wet etch was applied to heal the sidewall damage. A 300-nm SiO2 layer was deposited using plasma enhanced chemical vapor deposition (PECVD). Details of the growth and processing techniques used in this study are discussed in greater detail in our previous publications on Ⅲ-nitride RTDs9. For electrical bias, the design includes ground-signal-ground (GSG) probe pads, which largely cover the light emitting mesa diode area together with the anode and cathode electrodes (as illustrated by the top contact and pad configuration in Figure 1c and 1d).

Testing

The initial room temperature DC electrical characterization of the devices was performed with a semiconductor parameter analyzer using standard tungsten probes. For all subsequent light emission studies, the RT-LEDs were electrically biased through a GSG probe. The light spectrum data were measured with a multi-mode fiber-coupled (concave 50-μm slit grating) spectrometer. This spectrometer is capable of UV-VIS-NIR measurements ranging from 200–1080 nm with 2-nm resolution. The fiber was attached to a second micro-positioner next to the GSG and moved directly above the DUT.

The light intensity was measured using a silicon photodiode with a responsivity ≈0.10 AW−1 at 360 nm, and the photocurrent was measured with a picoammeter. The testing environment was kept dark under notably low background illumination such that both L–V and L–I curves could be measured with high precision. The photodiode was attached to a rotationally adjustable arm that allowed for measurements at different angles with respect to the DUT. Measurements for the EQE were taken at polar angles in the range of 15–90°.

Modeling and calculations

Computer simulations were performed using Silvaco's NEGF formalism in Atlas (with material parameters listed in the Supplementary Information)10. This model allows for a self-consistent solution between the Poisson and NEGF equations using an effective mass Hamiltonian. The device is broken into multiple regions of collector, emitter, active non-equilibrium, and reservoirs. The reservoirs (including the spacer) immediately surround the active region and stop at the contacts, which are flatband type. The contacts and the reservoir are both considered to exist in thermodynamic equilibrium, but the occupation factor varies based on the quasi-Fermi level on their respective sides. The active region is considered non-equilibrium. The Green's functions are calculated for the active region and the two reservoirs. However, the charge for the contacts is calculated with semi-classical techniques. The 1D effective mass Hamiltonian is discretized in real space via a finite difference method.

Alternatively, we have also developed analytical models of the electron currents using standard formulations for comparison. First, we use the inelastic form of the Breit–Wigner transmission probability through a single quasi-bound level in the presence of scattering and integrate it over the Fermi-sea on the emitter side using the standard Tsu-Esaki integral of quantum transport theory11. We add to this an electron 'leakage' current term to represent a combination of (ⅰ) inelastic tunneling at longitudinal energies well away from the quasi-bound level and (ⅱ) thermionic emission over the top of the barriers. The leakage term has the form of the Shockley Equation, IL=I0[exp(αV/kBT) −1], where I0 and α are constants determined by curve-fitting to the experimental data. A k·p approach is used to evaluate the hole current density using a WKB approximation for the tunneling integral12, 13. The potential profiles for the accumulation in the emitter and the depletion in the collector were calculated using the method given in Ref. 14.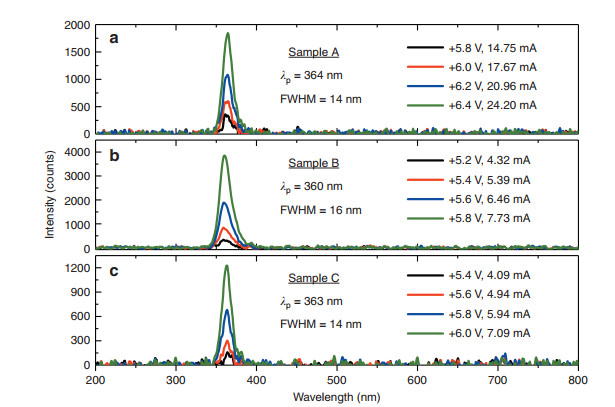 Reference (34)