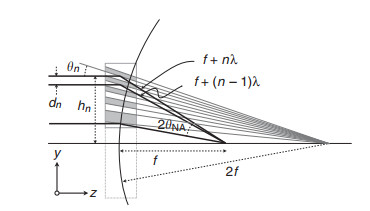 MATERIALS AND METHODS
All multilayers employed in this study were deposited in DESY's multilayer X-ray lab using magnetron sputtering. More details about the deposition process and MLL fabrication are presented elsewhere17, 18. The DC sputtering power was 220 W for the SiC target, 100 W for W, and 100 W for WC, which produced deposition rates of 0.3 nm s−1 for SiC, 0.65 nm s−1 for W and 0.6 nm s−1 for WC.

To investigate the dependence of the microstructure of the layer materials as a function of their thickness, W/SiC and WC/SiC multilayers were prepared in which the layer thickness varied throughout the stack. Each multilayer stack consisted of 34 layer pairs, beginning with a period of 4.0 nm, which was increased to 7.0 nm in 0.1 nm steps. From that point, the layers were increased in period from 7.0 to 10.0 nm in 1 nm steps. The two layer materials were deposited with equal thickness ratios for all periods. These 'depth graded' multilayers are, of course, unsuitable for focusing.

The two MLLs fabricated for this study were designed to focus 16 keV X-rays with 0.0075 NA and focal lengths of 1.4 and 2 mm to create a 2D focus when placed 0.6 mm apart. The Rayleigh resolution for an ideal lens pair with this geometry is 5.0 nm in the horizontal and vertical directions (for a lens with a square pupil, the Rayleigh resolution is given by 0.5 λ/NA). Each multilayer structure was deposited on a super-polished Si wafer with a roughness of < 0.2 nm rms at spatial frequencies assessable through AFM measurements. The lens parameters are given in Table 1. Both lenses were designed as off-axis sections of an ideal parent lens. This partial structure avoids the need to deposit layers thicker than approximately 30 nm, which would otherwise lead to additional stress and roughness, and gives the advantage that the direct (zero order) and deflected beams are well separated at the focal plane. To take full advantage of the smooth substrate, we started the deposition with the thinnest layers. Each lens was cut from the multilayer film using a focused ion beam (FIB) in an FEI Helios Nanolab Dual Beam FIB/SEM with a thickness of 6.5 μm in the direction of the optic axis, calculated as giving optimum diffraction efficiency for 16 keV5. Each MLL was transferred to a separate mount, which enables the independent positioning and alignment of each lens.

Horizontal focusing lens
(MLL1)
Vertical focusing lens
(MLL2)
Focal length
1.36 mm
2.02 mm
Number of bi-layers
3326
5100
Smallest period
3.90 nm
3.86 nm
Largest period
21.7 nm
15.8 nm
*Smallest 2θ
3.5 mrad
4.8 mrad
*Largest 2θ
19.5 mrad
19.7 mrad
*NA
0.008
0.0074
Lens height
21.8 μm
29.9 μm
Offset from optic axis
5.0 μm
10.0 μm
The parameters labeled with an asterisk (*) depend on photon energy and are given here for 16.3 keV (0.076 nm wavelength). The deflection angle 2θ is twice the Bragg angle given by λ=2d sin θ, where λ is the wavelength and d the layer period.

Table 1. Parameters of the two lenses used in this study

The two depth-graded multilayers were investigated in cross section using transmission electron microscopy (TEM). Their post-deposition preparation involved using an in situ focused ion beam (FIB) lift-out technique on an FEI Dual Beam FIB/SEM (Evans Analytical Group, USA). TEM images were obtained with an FEI Tecnai TF-20 FEG/TEM operated at 200 kV in bright-field (BF), dark-field (DF), and a high-resolution TEM (HRTEM) mode.

To characterize the diffraction efficiencies and wavefront aberrations of the MLLs and to form images using the lenses, we used beamlines P11 (Refs. 24, 25) at the PETRA Ⅲ synchrotron radiation facility (DESY, Hamburg) and the Hard X-ray Nanoprobe (HXN) beamline at the National Synchrotron Light Source Ⅱ (NSLS-Ⅱ) of Brookhaven National Laboratory (NY, USA)26, 27. At both these facilities, we used a scanning microscopy geometry, whereby a monochromatized collimated beam was focused by the lenses to illuminate a spot on the sample that was scanned in its transverse position. At the HXN beamline, where we used a slightly modified test system to accommodate our MLLs, a portion of the monochromatized beam was selected by an aperture placed in the secondary source of the beamline, approximately 8 m upstream of the lenses, to achieve a spatial coherence length matched to the width of the lenses. Each lens in its mount was attached to an independent and motorized stage with both translational and rotational degrees of freedom with linear and angular resolutions of approximately 0.1 μm and 5 μrad, respectively28, 29. The lenses were mounted to focus in the horizontal and vertical directions. The far-field diffractions from the lenses alone and with the sample in place were recorded using a pixel-array detector. At P11, this was a LAMBDA 750 K detector (X-Spectrum) placed 1.4 m downstream from the focus. This had 512 × 1536 pixels with an individual pixel width of 55 μm, which was monitored in real time using the OnDa software package30. At HXN, a Timepix detector (512 × 512 pixels, 55 μm width) was placed 0.533 m downstream of the focus. The general scheme is depicted in Figure 3.

Fig. 3  

Experimental setup used at the P11 and HXN beamlines. Two MLLs are orthogonal to each other, as indicated by the red double-headed arrows. At P11, a LAMBDA detector with 55-μm pixels was used to measure the far-field intensity at a distance 1.4 m from the focus. At HXN, a Timepix detector with 55-μm pixels was placed 0.533 m downstream of the focus. An example of the efficiency measurement is shown from P11, with intensities shown on a logarithmic color scale.

Characterization of the lens pair was carried out by scanning a sample in or near the plane of the beam focus and recording the far-field intensity pattern for each sample position. The off-axis focusing geometry of the lenses, apparent in the separation of orders in the far field, as shown in Figure 3, also results in a separation of these orders in the focal plane by the distance of the low-angle edge of the lens to the optic axis. Initial alignment of the MLLs was achieved by bringing each lens into the diffracting condition by observing the extinction of the direct beam on a downstream YAG screen. When the Bragg condition is satisfied, the lens appears black because most of the light is diffracted, while the unaligned lens transmits the X-rays and is therefore transparent (Supplementary Fig. S1). A series of knife-edge scans was made to bring the two foci to the same focal plane. To eliminate 45° astigmatism, the lenses were adjusted to be orthogonal31.
RESULTS AND DISCUSSION
Microstructure of the layer materials

Characterization of diffraction efficiency

Focus reconstruction and scanning transmission X-ray microscopy (STXM) images

Manufacturing limits

Projection imaging
Reference (48)